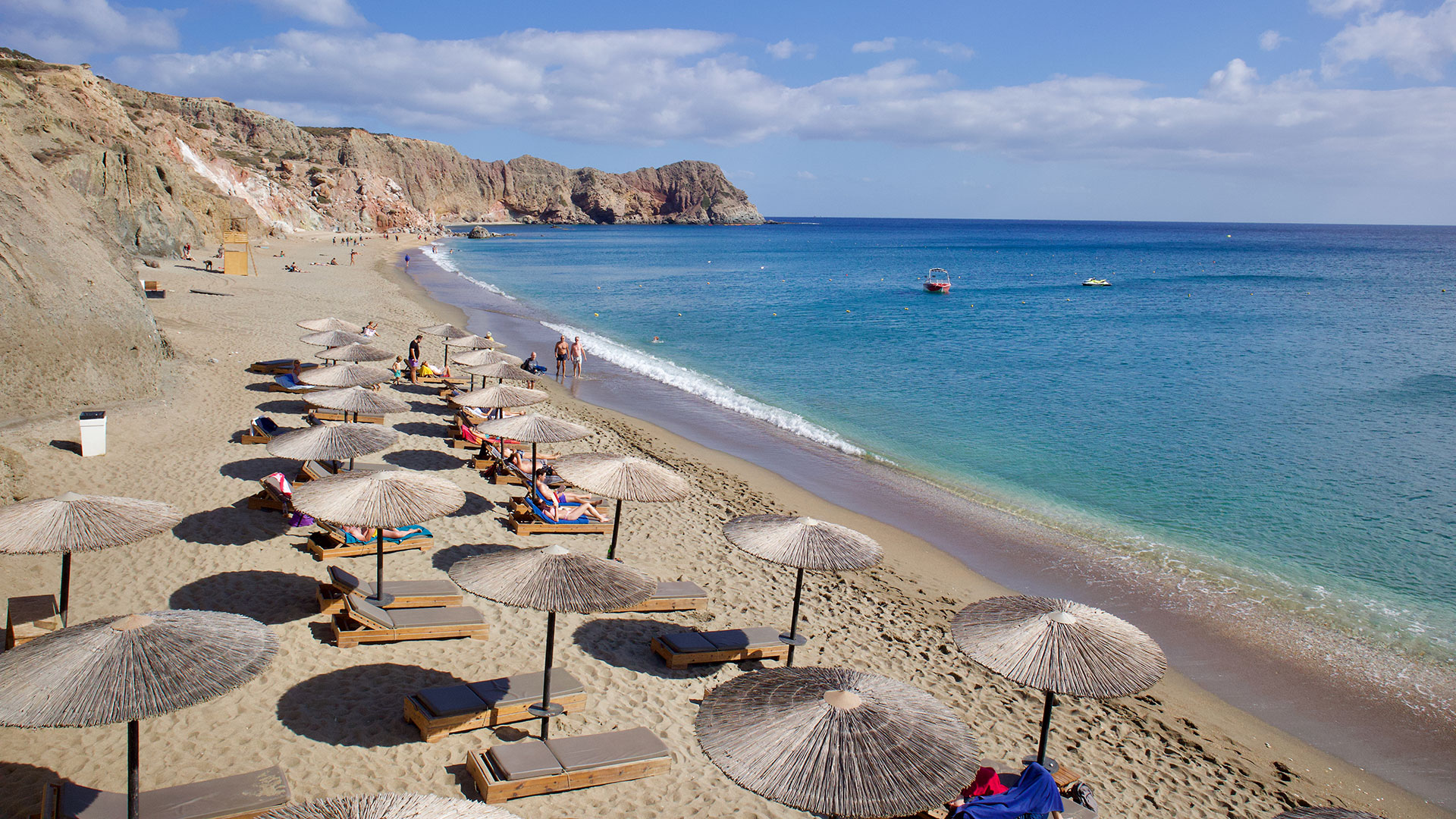 ABOUT MILOS CARS
Secure

Affordable

Convenient
Our goal is "... to provide our customers in the right place at the right time, the car they want at the best price!"

We provide high-level professional quality services. Our long experience has enabled us to offer reliable, services, - be it for your professional meetings and travel, or for your sightseeing. Furthermore, our services guarantee punctuality and safety on the way to your destination, irrespective of distance and time.

The categories of cars for hire range from small, economy rental cars to jeeps, and vans. If you are looking for cheap car rental services, you can take advantage of the special budget and discount car rental packages.

The majority of "Milos Cars rent a car" company offer discount car rentals online, making it easy to book before actually arriving. Milos Cars Car Rental Services is offered in every major town, port and airport throughout the island to start your trip or holiday in Milos in style and comfort. Similarly, airport car rental services are provided upon departure as well, and many visitors take advantage of the useful Milos Cars airport car rentals collection services when leaving the island. Please note that it is imperative to inquire about availability and to book you car rental vehicle well in advance, as Milos is a tourist destination.

By arranging for a car rental vehicle in Greece, you will have the freedom to organize your own touring schedule and visit the places you are interested in at your leisure. Discover Milos island and its exquisite beauty, from the tops of the mountains, all the way to the breathtaking beaches and deep blue waters. See every side of Milos island, touring magnificent ancient sites and traditional villages, as well as bustling modern towns and their commercial and business districts.

Exploring Milos island becomes an unforgettable experience if you rent a safe, dependable vehicle. Milos is a beautiful island and the best way to explore it is in a reliable and convenient car hire. At Milos Cars you are provided with rent-a-car vehicles ensuring comfort and safety in your trips. There are great deals in car rentals, with special offers for customers, excellent customer service is continuously provided. The island of Milos in Greece is a spectacular vacation spot, the perfect destination for those who love to relax but at the same time wish to have an adventurous holiday. The island is packed with wonderful historical & natural sites, as well as stunning beaches and charming villages. It is therefore necessary to have a reliable and comfortable means of getting around Milos. The safest and most efficient way to travel in Milos is by car hire.

At Milos Cars Rent a Car Hire Agency, we offer first class car rental services, sound travel advice and a wide selection of vehicles for car hire that are suitable for every type of visitor, and ensuring comfort, convenience and safe driving during your stay on Milos Island, whether you are on vacation or on a business trip. A map of Milos (Greece) is provided,, showing the major points of interest on the island that are ideal places to visit with your Milos Cars car rental vehicle. You can be informed about Milos's sites,beaches, as well as distances and useful phones of Milos Port, Milos Airport and other authorities .Milos Island belongs to the Southwest Aegean Island Cluster and is in Cyclades.

The island has rich vegetation and is full of sandy beaches, as well as other natural features such as lush hills and caves.Milos has a great history and possesses many impressive historical and religious sites, making it the ideal holiday spot for both nature and history lovers.
Well worth because:

Discount in case of prepayment!

All taxes included!

Service at Milos Airport!

Excellent service!

Free map of Milos!

Free 24-hour roadside assistance!
Our reviews
Ines Benyelles
We rented a car with them spontaneously (after having had a horrible experience with another rental company) and it was all perfect! Very friendly young staff and with cars in very good almost new condition. I can 100% recommend these guys. They even let us leave our luggage at the office when we returned the car since we had a few hours left until the ferry arrived. Thank you for everything!
Hubert Małek
Great and quick service. We came without reservation and maybe after 5 minutes we were already in the car. The price for small car (Seat Mii) was 65 euro per day, the car had AC and it was a perfect car for such a small island. Return of the car was also very smooth. People working there are really nice. Highly recommend.
Adrian Robinson
Easy to do business with . Good communication all round. Car was as described when ordered via the web and no funny business either picking up or dropping off. Office close to ferry terminal so easy to walk to. They stored our bags for a couple of hours when we returned no problem at all.
Mansel Jones
We ordered a car through our hotel and Milos cars came to the hotel to pick us up. We didn't like the car we ordered and they changed it to more comfortable car with minimal effort. We returned the car and the handover was complete quickly an efficiently. No fuss no bother no drama.
Matthew Trede
My wife had been speaking to these guys via email before we arrived, great communication. When we arrived at the airport there was a stand and we were taken to the store and car was brought over. No mess no fuss, super easy to deal with and helpful.
Christopher von den Hoff
Highly recommended! Everybody was super friendly and the rental process was quick and uncomplicated. We booked the car for pickup at the airport but we ended up arriving by ferry. The staff was super flexible and allowed us to pick up the car in town instead - at no extra charge and a few hours earlier than planned!
Matthieu Lerat
Professional team, very helpful and providing good advice. The checkin and checkout were really efficient. We appreciated the early checkout before boarding an early ferry at the port. Good car in good condition. We recommend them!
Lee Johnstone
We used Milos Cars for two day car hire and found their cars and service were perfect. We initially booked for two consecutive days but needed to swap around to get a boat trip due to high winds on one day. Most car hire companies would not do this but Milos Cars were very helpful and allowed us to split over a different day for which we are very grateful. If we go back to mills, they would be our preferred choice.
François de F
Great deal. Lowest prices we were able to find. The two guys working there are really nice. It was a lot of fun going there every day to pick up a new car because of our last minute program.
Thanks guys!!
Strongly recommend!!
Elina P
Quick and easy service, we had no problems at all.
Lucas Romero
Warm welcome by two very smiling women.
Vehicle in very good condition perfect for visiting milos, available at the last minute without reservation even in high season, at a reasonable price.